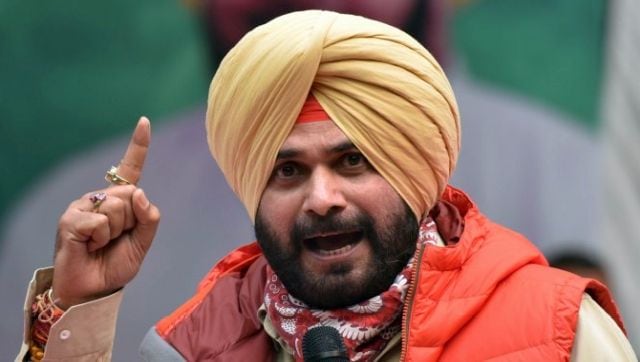 In a letter to Sonia Gandhi, he wrote that he would 'not compromise on the future of the state'
In a surprise move, Navjot Singh Sidhu announced his resignation as Punjab Congress chief soon after the announcement of the state cabinet.
In a letter to Congress chief Sonia Gandhi, which he shared on Twitter, he wrote that he can never compromise on the future of Punjab and the welfare agenda of the state.
Sidhu took over as the state party chief in July amid a leadership tussle with Amarinder Singh, who had stepped down as chief minister 10 days earlier, accusing the party high command of humiliating him.
The cricketer-turned-politician did not say why he resigned.
In his letter to Sonia Gandhi, he said, "The downfall of a man's character comes from a compromise corner, I can never compromise on the future of Punjab and the agenda of Punjab's welfare."
"Therefore, I resign as the President of Punjab Pradesh Congress Committee. Will continue to serve the Congress," he wrote.
— Navjot Singh Sidhu (@sheryontopp) September 28, 2021
It is not yet known what prompted Sidhu to step down as the Punjab Congress chief. Sidhu's resignation also sparked speculation over the next move of the politician, who was with the BJP before joining the Congress.
Trouble started on Sunday hours before the new ministers were sworn in, with some MLAs writing to Sidhu, saying that "tainted" Rana Gurjit Singh should not be made a minister as he faces allegations of corruption in sand mining.
Gurjit Singh was actually removed from the cabinet by the then Chief Minister Amarinder Singh over allegations of corruption. The resignations months before the Punjab elections have left the Congress leadership stunned.
Congress MLA Bawa Henry told late Tuesday night ANI Sidhu's resignation has not been accepted and the matter will be resolved soon.
Navjot Singh Sidhu's resignation (as Punjab Congress chief) has not been accepted, the matter will be resolved soon. There are 3-4 issues, they are being discussed in the party forum, the high command will solve them: Congress MLA Bawa Henry pic.twitter.com/obK1iR3LGs

— ANI (@ANI) September 28, 2021
Former Punjab chief minister Amarinder Singh, who called Sidhu dangerous and anti-national, and said he would put up a strong candidate against him, to ensure that he does not become the chief minister, reacted quickly.
Talking to Amarinder Indian Express He said Sidhu has once again displayed his 'shifty' character by resigning within two months of taking over as the PPCC chief. "I have known this boy since childhood and he has been lonely and can never be a team player," Amarinder recalled. Sidhu suddenly left the Indian team in 1996 in England. "That's his real character," he said.
Riding on Sidhu's claim that he was resigning on principle, Amarinder said Indian Express"What principles is he talking about? He is only making grounds for leaving Congress. You wait and see, he will join hands with some other party very soon."
Earlier in a tweet on Tuesday, Amarinder wrote, "I told you so… he is not a stable person and not fit for the border state of Punjab".
I told you…he is not a stable person and is not suitable for the border state of Punjab. — Captain Amarinder Singh (@capt_amarinder) September 28, 2021
Amarinder has been strongly opposing Sidhu and has alleged that he has links with Pakistan. The former Chief Minister has openly challenged Sidhu and said that he will oppose him vehemently. Sidhu's move coincides with Amarinder Singh's visit to Delhi on Tuesday.
Though it has been described as "personal", there is speculation of a possible meeting between the captain and the BJP. His media aide, however, said the Congress veteran had come to the capital on a private tour and would vacate the Kapurthala House, where the Punjab chief minister stays during his visit to Delhi.
Moments after Sidhu's resignation, Chief Minister Charanjit Singh Channi addressed the media but chose to focus on farmers' suffering due to the three laws introduced by the Center last year. When asked about the resignation of the cricketer-turned-politician, Channi said that he has no knowledge about it.
I have full faith in (Navjot Singh) Sidhu sahib: Punjab CM Charanjit Singh Channi pic.twitter.com/9w8brbQtwt

— ANI (@ANI) September 28, 2021
"I will sit with Sidhu and talk to him," he added News18.
Channi, who took charge last week, is the first scheduled caste chief minister of the state. The opposition, however, had alleged that Sidhu was taking a beating on those who claimed that he would become the face of the party once the assembly elections are held.
Punjab cabinet ministers, Congress leaders resign
Razia Sultana on Tuesday resigned as the cabinet minister of Punjab, hours after Sidhu resigned from the post of state Congress president. In her resignation letter to Channi, Sultana said she was resigning "in solidarity with Navjot Singh Sidhu".
Sultana is considered close to Sidhu. Her husband Mohammad Mustafa, a former IPS officer, is Sidhu's principal strategic advisor. Earlier in the day, Sultana was given the charge of water supply and sanitation, social security, women and child development, printing and stationery departments.
She used to hold the transport department in the Amarinder Singh-led government.
According to News18PPCC treasurer Gulzar Inder Chahal also stepped down about an hour before Sultana. Chahal sent a one-line resignation letter to Channi without explaining the reason for his decision.
Actor-turned-politician Chahal was appointed as the treasury of the Punjab Congress Committee on September 21.
PPCC General Secretary Yoginder Dhingra also resigned without giving any reason News18.
Gautam Seth also tendered his resignation as General Secretary (Incharge Training) of State Congress ANI.
Meanwhile, the Aam Aadmi Party on Tuesday claimed that Sidhu resigned from his post as he "could not bear" that a Dalit has been made the chief minister of the state. The Congress has tried to burnish its pro-Dalit credentials by making Charanjit Singh Channi Channi the first member of the community to make Punjab Chief Minister ahead of next year's assembly elections.
AAP spokesperson Saurabh Bhardwaj told reporters, "This shows that Navjot Singh Sidhu is against Dalits. A poor son was made the chief minister. This Sidhu could not tolerate. It is very sad." AAP Punjab co-in-charge Raghav Chadha termed it as "a state of complete and complete anarchy in the Punjab Congress".
"How can the people of Punjab expect these selfish leaders to give a stable, progressive and inclusive administration? How can these people be trusted with a state having a border of 550 km with Pakistan?" Chadha tweeted.
With input from agencies